New Album - "An Honest Effort"
"An Honest Effort" comes out November 19, 2021 on Black Hen Music.  This is my 5th album. Click the picture below to pre-order. 
You'll find stories on this record about folks trying. In the face of unfavourable odds, with seemingly certain unfavourable outcomes, they give it a good go. Results vary, but all of them are better off for the attempt.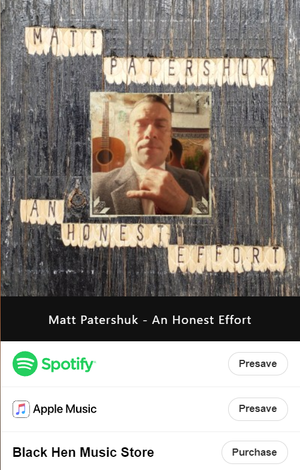 Latest Track
 "Turn the Radio Up" is the first single from the new record (check it out below).
The whole album comes out November 19. Until it shows up, here are a selection of old, worn out songs for your listening pleasure:
0:00/3:33

0:00/4:47

0:00/4:22

0:00/4:23